Ant Proof Hummingbird Feeder With Perch
4.99
Only 2 left in stock
Free US delivery in 3-5 days
30-day free & easy returns
Shipped from our US warehouse
Dazzling Deals
This Limited Offer Ends In:
To add this product to your wish list you must Sign In or Create an account
Attract wild hummingbirds in your backyard with this Ant Proof Hummingbird Feeder With Perch
Hummingbird Feeders are a great way to attract wild hummingbirds to your environment, if you are a bird watcher or a lover of birds, investing in getting a good bird feeder is definitely a good use of your money.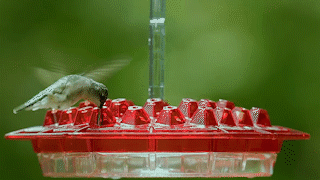 A hummingbird feeder with an ant moat is a great choice when considering bird feeders, they help handle pesky ants. By using hexagonal raised diamond geometry of ports we are able to prevent bees from taking over the feeder which makes it even more desirable to your hummingbirds.
Key Features:
25 Feeding Ports: The hummingbird feeder has a capacity of 12 ounces of nectar and up to 25 feeding ports. You can imagine as many as 10 hummingbirds sitting and drinking nectar at the same time. It's perfect!
Easy to Clean: The red lid can be easily opened for nectar filling and cleaning.
Moat: Fill the central sink with water to protect the nectar.

Leak-Proof: Unlike automatic refill products, our hummingbird feeder do not exit pressure difference, so it is leak-proof.

Unique Design: The most significant advantage of Feeder is that the nectar container is flat. This design allows the hummingbird to observe the surrounding environment 360 degrees in all directions while eating. This is in line with their instinct to check for danger. It can also make it easier for us to observe hummingbirds eating.
How to make sugar water:
We recommend mixing 1 cup of white granulated sugar with 4 cups of water. You should steer clear of brown sugar, honey, red dye, food coloring, or any other ingredient.

Boil it and then let it cool to help reduce impurities in the solution. Sugar water may be refrigerated for up to a week.
How to keep hummingbird feeders clean?
The sugar water in the hummingbird feeder does not need to be added too much, and it is best to keep it replaced once every 3 days and clean them before each refill.

Keeping the hummingbird feeder in the shade also keeps the sugar water fresh.
Includes:
1 x Ant Proof Hummingbird Feeder With Perch
SHIPPING INFORMATION:
Your order will be packaged and shipped within 1-2 days of ordering. Tracking info will be emailed to you once the order has been shipped. Shipping will take 3-5 days.
OUR GUARANTEE:
We believe our products can help people's everyday lives, and we fully stand by our products. We offer a risk-free 30-day guarantee on all our products. If you don't have a great experience, we will ensure you are satisfied with your purchase. We also offer a 1-year free breakdown warranty on our products.
Loading...